Where does Andy Reid rank among the best coaches in the NFL?
The criteria and outlook for these rankings factors in past success while also looking at their future as well. This is not meant to be a "legends list" rewarding cumulative achievements. Likewise, this list does factor in what the coach had to work with for talent and organizational strength. Going 12-4 with a storied well-run franchise like the Steelers isn't the same as going 11-5 with the Browns, who have been a laughing stock for decades. Lastly, we are strictly looking at the coaching side of things. Some coaches that do function in a GM role will not be assessed on their draft skills or free agent signings etc.
1. Bill Belichick
There's definitely a discussion to be had at who should be at the top spot in the head coach rankings. After going 7-9 in his first season without Tom Brady in decades some might argue the shine is coming off of Belichick. However, when you look at what that roster had for talent it's a miracle they won 4 games, let alone 7. There's no doubt that Bill is the most accomplished coach of all time going 31-12 all-time in the playoffs and 6-3 in Super Bowls. But, there is some doubt if going forward he can continue to be the dominant force he was with Brady. 2021 will tell us a lot more about Bill and if he's still the best in the league.
2. Andy Reid
What Andy Reid has done in his career without a hall of fame level quarterback is remarkable. Until Mahomes, Andy was dominating divisions with game managers like Alex Smith and Donavan McNabb. Reid is the brightest offensive mind in the league who frequently starts the next offensive trend for the league. The best minds take time to watch the Chiefs film every week to see what he is innovating next. While there is a discussion for Reid being ranked at the top spot in the league there can be a few drawbacks with Andy. He is loyal to a fault, everyone in the NFL knew he stuck with Bob Sutton too long and at times his loyalty has spilled into off-the-field issues as well with his son Britt Reid's recent arrest. Overall, Andy could easily push himself to the top spot with another deep run this year, which most expect to be the outcome for the 2021 Chiefs.
3. John Harbaugh
What Harbaugh has done in Baltimore with mediocre quarterback play all throughout is nothing short of amazing. Winning a Super Bowl with Joe Flacco is an accomplishment in itself, but what he has done with Lamar cements him as a top five coach. What is such an underrated skill with coaches is assembling a great coaching staff. Harbaugh took a big risk in drafting a player like Lamar Jackson but he made a great choice in hiring Greg Roman who had success with Colin Kaepernick in the past. He routinely has a top 10 defense despite defensive player turnover and has excellent special teams as well. Being a former special teams coordinator makes Harbaugh a unique coach in today's NFL. He also is one of the leaders in fourth-down attempts (he went for it 64% of the time when he should have in 2020, among the league's highest rates), Harbaugh is one of the best coaches in the league currently and has a Hall of Fame case to make.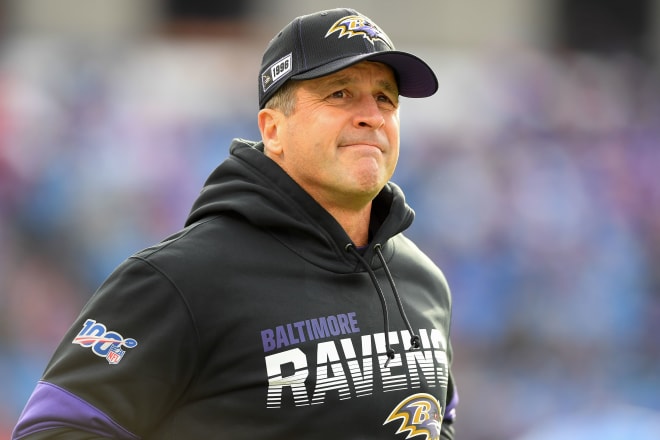 4. Sean McDermott
McDermott is the first coach on the list who does not have a Super Bowl ring as a head coach. One of the best things McDermott does is use his players in the roles that fit them best. He helps scheme and develop players by playing to their strengths and elevates the defensive side of the ball. He has overcome adversity as a coach too, playing in the same division as the greatest coach and QB duo, drafting and developing a QB and a front office change as well. Moreover, the Bills are a smart organization being one of the most pass-centric offenses in the league.
5. Sean Payton
Since being in New Orleans Payton has made the Saints a perennial contender and a Super Bowl champion. He excels as an offensive mind by continuing to develop and tweak his scheme year after year. Though he has struggled to sniff another championship in the last decade he continues to get the most of players on both sides of the ball. Last year he won games with a glorified fullback playing quarterback. Payton has lots to prove after Drew Bree but don't be surprised if Jameis Winston looks good.
6. Mike Tomlin
There might be some recency bias when it comes to having Mike Tomlin just outside of the top five, but he is still a premier coach in the NFL. Yes, it's hard to forget the total bashing the Steelers took from the Browns in the playoffs, but Tomlin can only do so much. Considering the fact he's never had a losing season as a head coach including a year with Duck Hodges and Mason Rudolph at QB… Tomlin is an excellent motivator and master of personalities. He was successful in managing Antonio Brown, Le'Veon Bell, JuJu Smith-Schuester, and Big Ben all on the same roster which looks more and more like a miracle with every passing day.
7. Matt LaFleur
Of all the rankings in this list this might be one of the most controversial; it seems most want to give all the credit to Rodgers for the Packers' success. Make no doubt about it that having the league MVP makes the job much easier- but LaFleur has done a great job in Cheese land. He took a team that frequently under-achieved in the regular season and lifted it to a perennial 13-win team. He has revitalized Rodgers career and developed Davante Adams into the best wide receiver in the NFL. He went to back-to-back conference championships in his first two years as a coach and is a favorite to do so again. Like many other coaches on this list, the true test will come when LaFleur is coaching a QB who is not destined for Canton, Ohio.
8. Bruce Arians
Much like Andy Reid, Bruce Arians' reputation really needed a championship. Going to two Super Bowls and winning one really changes the outlook on his career arc. While Arians' scheme does raise some questions pressing the ball downfield while simultaneously rushing the ball on every first down; he still generates an offensive advantage. One of the most overlooked items of their recent championship is Arians' willingness to change his offense to better support Brady. Good coaches adjust their schemes for their players. Arians is a great personality at the helm and has done a lot to promote diversity in his coaching staff as well.
9. Sean McVay
We've entered the dreamy, sharp jawline part of the list and McVay has been excellent since being added to the Rams. He has truly revolutionized the way the entire league looks at both offense and head coaches. It's easy to forget how heavily criticized the hiring of McVay was due to his age and lack of experience. McVay really was so good he had people saying Jared Goff deserved to be one of the highest-paid players in the league. And if his offense wouldn't have choked in the Super Bowl and scored 14 or more points, he could easily be a top 5 coach. Here's to looking forward to what he can do with Matthew Stafford.
10. Kyle Shanahan
What's the difference between losing the Super Bowl with Jimmy G and losing a Super Bowl with Jared Goff? Blowing a 28-3 lead. It is really hard to distinguish Shanahan and McVay from one another, but there's just too much correlation between the loss as the Falcons offensive coordinator, blowing a 10 point lead against the Chiefs, and only having one winning season in San Francisco. Nevertheless, he is a top 3 offensive mind in the game and his run schemes make any down and distance a running down. He has shown what he can do without an elite QB now it's time to see what he can develop with Trey Lance. The last time he had great QB play, Matt Ryan was the MVP and was leading the greatest quarterback of all time by 25 points in the super bowl.