Two years later, we revisit Brett Veach's second draft as the Chiefs General Manager.
Believe it or not, 2019 was two years ago… Somewhere between the Chiefs winning the super bowl, a toilet paper shortage, and worrying about the Covid19/ Covid reserve list and "Tiger King" time has flown by.
As the 2019 draft class enters its third season for the Chiefs there are still a lot of questions in regard to what some players can bring to a roster that continues to be in flux. The third season for the 2019 draft class will be especially crucial for this group who was impacted by a season unlike any other. So far these players have only had a rookie season and a covid season with no pre-season or OTA's which certainly impacts their development.
As we break down the picks it's always important to remember the value invested and what is returned from the pick. It's much easier for a first-round pick to bust than a sixth-round pick, therefore making it easier to give decent grades to the lower picks-because little was expected of them. It's also worth noting the official grade on this draft won't truly be done until they either leave in free agency or get another contract with the team. So these grades are partly incomplete as well.
2nd Round, 56 Overall-Mecole Hardman WR
In his two seasons with the Chiefs Mecole has typically been the third or fourth receiving option on the field depending on what injury Sammy Watkins has. He has accumulated 10 touchdowns and 1098 yards receiving while also adding a kick-off return touchdown and a punt return touchdown as well. Despite the comparisons to Terry McLaurin and D.K. Metcalf, Hardman has still been a valuable asset to the roster and a valuable pick. Contributing 500+ yards every season, being a special teams threat, and creating more versatility in the roster makes the pick still a success.
Trading up for Hardman hurts the grade because the Chiefs probably could have picked him at their original spot. However, it cannot be forgotten that KCTV 5 "conveniently" released damming audio recordings of Tyreek Hill the night of the draft in the midst of the investigation. Veach had to face the reality of going into the 2019 season without a speed receiver to take the top off of the defense. He made a pick that made a lot of sense at the time and ended up being a luxury pick. Hardman has still a lot of room to improve as a route runner and at the point of the catch. Depending on the rest of free agency and the draft the Chiefs need Hardman to take a big step in 2021.
Grade: B-
2nd Round, 63 Overall- Juan Thornhill S
2020 was sort of a lost season for Juan Thornhill despite him playing in all 16 games. After suffering an ACL injury that ended his promising rookie season Thornhill struggled with consistency in 2020. Throughout the season Thornhill saw his playing time decrease to Dan Sorenson. Until the playoffs where he had his best game of the season against the Bills.
Thornhill came out and started week 1 on a defense that needed a complete overhaul. His ability to play the deep part of the field allows the Spags to utilize Mathieu and Sorenson in dime defense which is their most frequent package. For 2021, Thornhill just needs to get healthy and focus on getting his burst back-something that was missing from his play in 2020.
Grade: B+
3rd Round, 84 Overall- Khalen Saunders DT
Saunders looked to be a promising part of the defensive line rotation in 2019. He showed out when Chris Jones went down with an injury in 2019. After getting injured in the home opener Saunders lost his position to undrafted free agent Tershawn Wharton. Saunders was a healthy scratch for the remainder of the season. With Mike Pennell possibly leaving in free agency Saunders may have another chance to play a bigger role in 2021. Saunders will need to arrive at camp in shape and ready to compete.
Grade: C-
6th Round, 201 Overall- Rashad Fenton CB
Fenton is exactly what an NFL GM dreams of when it comes to the later rounds of the draft. Getting a valuable role player that provides meaningful snaps of defense in the 6th round is a great return. Fenton has made big plays for the defense and is best utilized in a part-time role coming into play the coverage heavy packages predominantly.
Fenton ranked 26th out of 121 qualifying corners in PFF grade which, might be a tad optimistic but still encouraging. With 2 career interceptions and 11 passes defended he can also make plays on the ball which is something Chiefs corners have struggled with. The great thing about Fenton is, he's the type of player that improves with other talents on the field. Adding players like L'Jarius Sneed and Tyrann Mathieu to the secondary takes him from an average player to a great player by virtue of being used correctly.
Grade: A-
6th Round, 214 Overall- Darwin Thompson RB
Darwin's time in Kansas City has been a bit of a conundrum. When he was drafted the expectations were high for him, he looked like an elusive Andy Reid back that could come in and compete with Damien Williams and help fill the void left by Kareem Hunt. Instead, the Chiefs added LeSean McCoy and fed Darrell Williams as well. The Darwin Thompson hype was so real during camp that even former Andy Reid constituent Louis Riddick was hyping him up.
Between the additions of LeSean McCoy, Carlos Hyde, Le'Veon Bell, and Clyde Edwards-Helaire it's clear the coaching staff does not trust Thompson in any sort of featured role. He also did not help his cause by having a very ill-timed fumble in a crucial game against the Ravens in 2020. At this point Thompson is exactly what he has been; a 3rd string running back and a special teamer. While this might not be what Chiefs fans hoped for it has still been a valuable pick.
Grade: C+
7th Round, 216 Overall- Nick Allegretti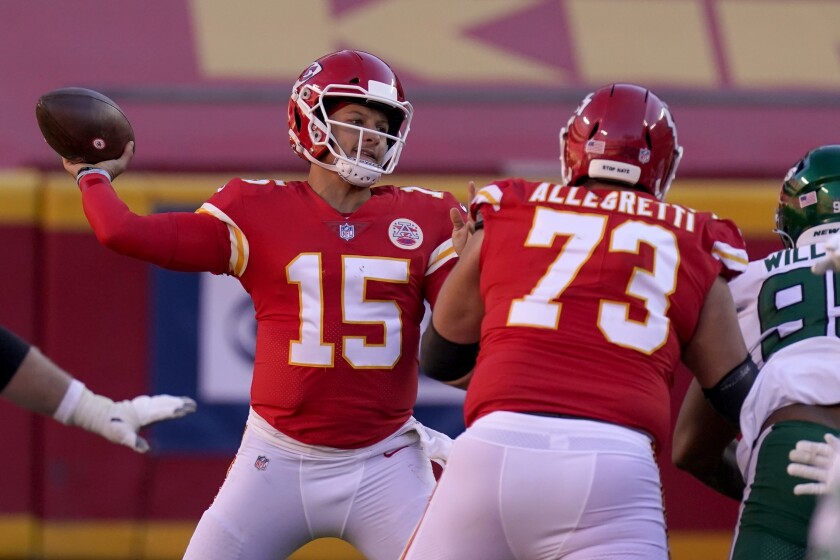 Up until this season, this pick would have been viewed as a depth piece at best. However, Allegretti stepped up in a big way in 2020 filling in for the injured Kelechi Osemele. Though our last memories of the 2020 Chiefs offensive line are not fond-we need to remember they also made it to the Super Bowl and Allegretti was part of that. While Nick is not a threat to new Chief Joe Thuney, he is a valuable depth and may factor in at the center position as well. Allegretti was modestly rated as PFF's 30th overall guard. For a 7th round pick that's a terrific value. In 2021, Nick could play center (where he played some snaps in college) or could be a trustworthy backup as well, either way, its a great 7th round pick.
Grade: A
Conclusion
2019 has been Brett Veach's best draft thus far as the Chiefs General Manager. All of the players are still on the roster and have provided meaningful snaps on offense, defense, and special teams. All players had some role in bringing two AFC Championships and a Super Bowl back to Kansas City. The outlook could be improved even more if Hardman and Thornhill take the next step that is expected of them. The depth at the bottom of the draft is particularly important in years such as this with a salary-cap crunch.
Overall Draft Garde: B